Telestra ACE Software
3D Audio Communications
The modeling, simulation, and training (MS&T) adage "Train as you fight, and fight as you train" doesn't just apply to sophisticated visual environments and operational gear. It applies to every aspect of training—including radio signals and audio warnings.
In real life, pilots can perceive the distance and direction of sounds. Unfortunately, most training systems don't provide this level of realism, leaving trainees woefully unprepared for actual combat. Programs need a way to reproduce high-fidelity comms in a stereo headset or helmet, preparing future pilots for a battle's most critical moments.
Telestra offers trainees a range of benefits:
Improved situational awareness: spatial separation and reduced ambient noise significantly increase a pilot's ability to process information from multiple radios and warning systems.
Decreased workload, especially with a Helmet Mounted Cueing System (HMCS)
Position threat and terrain awareness cues at the point of concern
Reduced fatigue
Improved speech and comprehension skills: trainees can easily separate, process, and prioritize source sounds.
Modeling Suite of 3D Comms Components
Telestra's modeling environment contains over 100 components, several of which focus on 3D comms modeling of radios and warning sounds. A head-related transfer function (HRTF) service and corresponding suite of components (e.g., comm panel, audio output) can create a custom 3D comms solution for a program of record. Telestra supports a full range of cues:
Radio directionality (e.g., UHF Radio 1 from the West, HF Radio 2 from the North East)
Radar warning receiver threats
Missile approach warning threats
Terrain obstructions and warnings
Search and rescue operations
Aircraft avionics and subsystems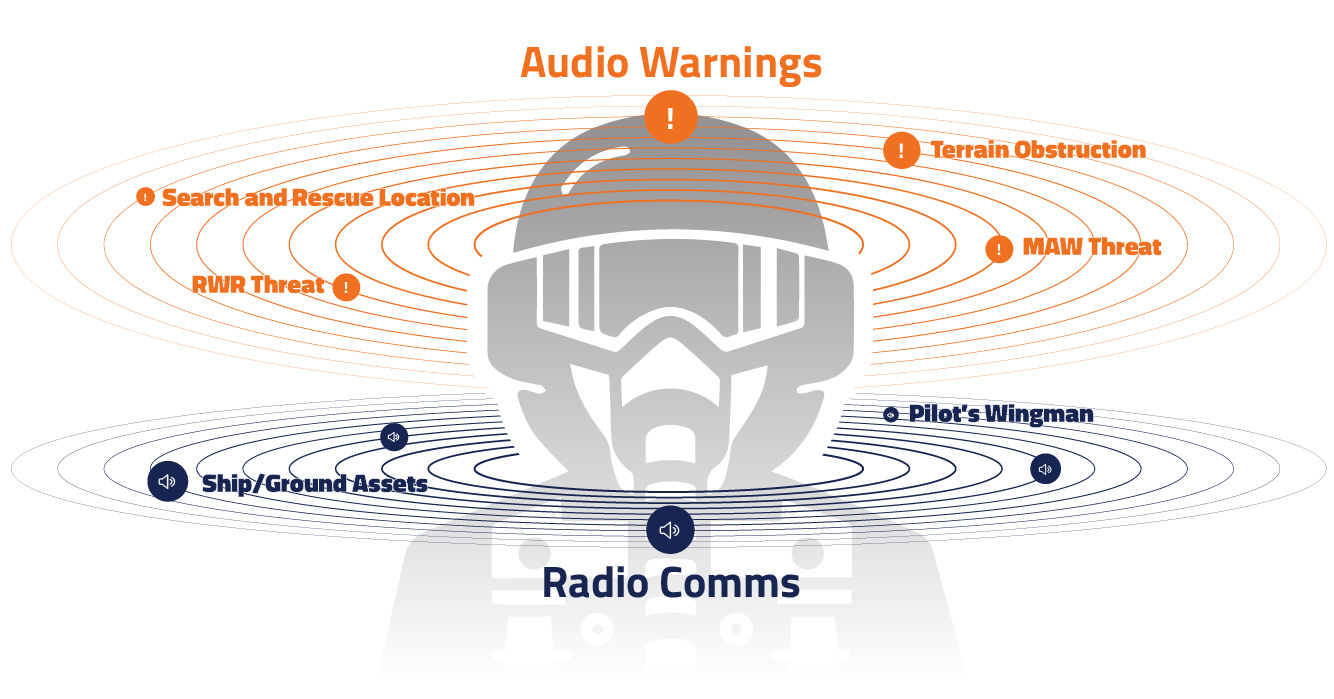 Since Telestra is a components-based solution, it's easy to replace models that use mono or stereo comm panels with an HRTF comm panel. Upgrading models to support 3D audio requires minimal changes: just a software upgrade, a few model tweaks, and updates to provide positions over the host interface. Stereo audio interfaces and helmets are ready to support 3D audio, but other sims may need to upgrade to ACU2s.
3D Comms Applications
Telestra is compatible with any land, air, or sea simulator, whether it's brand new or an existing system going through a lifecycle update. In aviation, pilots may notice that many upgrades to existing aircraft include 3D comms in the cockpit:
A-10: upgraded comms system for contested, degraded, and operationally limited environments
C-130H: integrated defensive systems for common mobility air forces mission computer
HC-130J: increased survivability in contested environments
F-15: modernized cockpit
F-16: multiband, secure line-of-sight/beyond line-of-sight radios with 3D audio
HH-60G: modernized, integrated defensive suite
To learn more about ASTi's approach, go to ACE 3D Soundfield Reconstruction.