You asked, and we delivered. This year, ASTi diversified its comprehensive training program for remote customers across the globe, providing training at the point of need. Available for our Telestra® and Voisus® products, these courses create an interactive learning environment using video conferencing platforms, such as WebEx, Teams, and Zoom. ASTi can even deploy Direct Connect Online® (DCO), the DoD's enterprise collaboration tool, for military customers.
With modern-day technology, virtual students benefit from all the advantages of ASTi's standard training curriculum. An instructor runs Voisus or Telestra software alongside a video-conferencing platform, leveraging features like file-sharing, screen-sharing, a concept board, and crystal-clear, 4k resolution. Instead of watching static tutorials, students practice course concepts on their own workstations, collaborating with instructors and peers. The result is a dynamic, hands-on experience just as effective as in-person instruction.
ASTi's flexible curriculum design saves customers both time and money. The course includes five, four-hour sessions broken into targeted modules (e.g., high-level architecture, text to speech, Level D tuning, speech recognition). Now team members can tune into the modules that apply to them, saving time. As an added bonus, there's no need to travel onsite, which eliminates flight, dining, and hotel costs.
ASTi recently completed a virtual training course for a large government contractor. Modeled after ASTi's Telestra Training Manual, the course covered basic concepts and demonstrated how to build sound models in ACE Studio. The customers used their newly acquired skills to develop a sound model matching their exact requirements, avoiding tedious paperwork and export restrictions.
Eric Stopper, an ASTi engineer and instructor, describes virtual training as "flexible and accommodating... to ensure this necessary training is meeting the needs of our customers." This modern design "opens the door to expand training options for a hybrid training experience..."
Remote support makes integration fast and simple, and thanks to virtual training, you'll have the knowledge and the skills to design and troubleshoot any challenge that arises. To learn more about ASTi's virtual training course or receive a proposal, contact sales@asti-usa.com. View all of ASTi's training options at ASTi Training Services.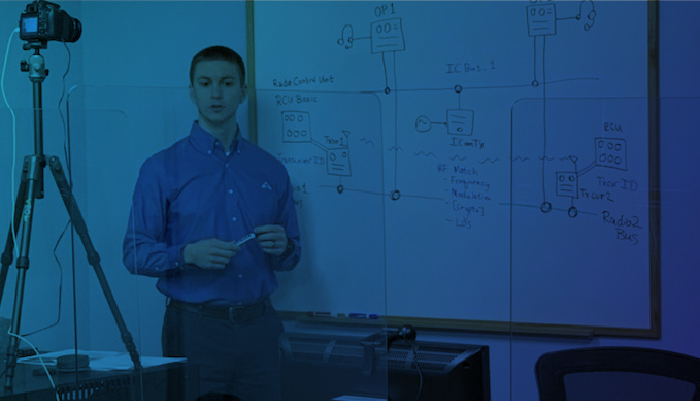 About ASTi
Since 1989, ASTi has been at the vanguard of innovation for live and simulated training solutions. ASTi has fielded over 10,500 systems at more than 800 installation sites in 50 countries. ASTi's capabilities include Radio-over-IP (RoIP) bridging; tactical system emulation; distributed, simulated voice communications; AI and speech-enabled, virtual role-players and simulated battlefield and cockpit sound environments. To learn more about ASTi, please visit asti-usa.com.