Advanced Simulation Technology inc. (ASTi) recently entered an agreement with Spanish simulator manufacturer Simloc Flight Simulation to integrate ASTi's Simulated Environment for Realistic ATC (SERA) as a core capability on Simloc flight training devices (FTDs). The first SERA delivery will integrate with an advanced FTD of novel and unique design. This design originates from Fensome Aviation Careers, Inc., the simulator's end customer.
SERA provides realistic air traffic control (ATC) and other radio communications, teaching students to interact with ATC and handle busy airspaces. Instructors can select and run training scenarios through an intuitive interface. As a result, they no longer need to role-play ATC and can focus on crew training during each session. This solution enhances any FTD, reducing instructor workload and bringing a level of pilot immersion previously unavailable.
SERA allows Simloc's flight simulation training devices (FSTDs) to replicate different flight phases at high fidelity. According to Víctor García, Simloc's Business Development Manager, this capability "maximiz[es] training based on the competencies for pilots." He further states that "Simloc's clients can be certain... their pilots will train in FSTDs completely adapted to the current demand on pilot training."
SERA fully complies with the latest industry requirements for Simulated ATC Environment (SATCE) solutions. These requirements include the "Manual of Criteria for the Qualification of Flight Simulation Training Devices" (ICAO Doc. 9625, Ed. 4) and the updated ARINC Specification 439a.
Yet again, this award confirms SERA as a leading SATCE solution in the marketplace for FSTDs. ASTi looks forward to working with Simloc Flight Simulation, bringing this innovative training technology to the real world.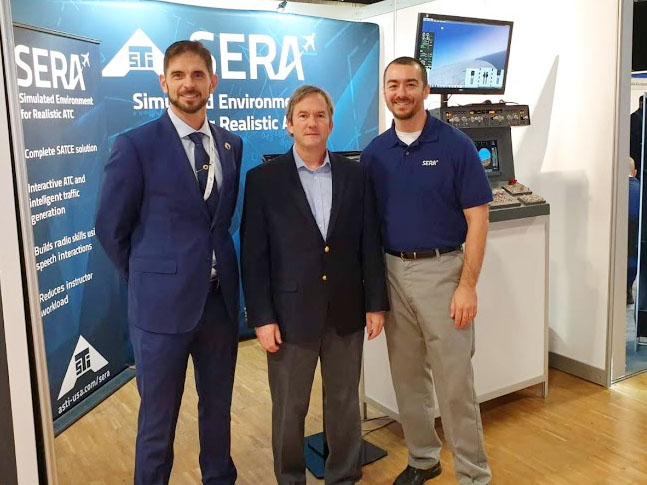 About ASTi
ASTi is the leading supplier of communications, automated ATC, and sound systems to the training and simulation industry. ASTi meets FAA, EASA, and equivalent Level D qualifications with simulators around the world. Since 1989, ASTi has fielded over 11,568 systems at more than 800 installation sites in the U.S. and 49 other countries. To learn more about ASTi, please visit www.asti-usa.com.
About Simloc
Simloc is a Spanish SME with an international scope that designs, produces, and distributes certifiable Fixed-Base Simulator (FBS) type FTDs. The company holds the quality standard ISO 9001:2015. To learn more about Simloc, visit simloc.aero/en.