ASTi Custom Panels
Tactical Radio Simulators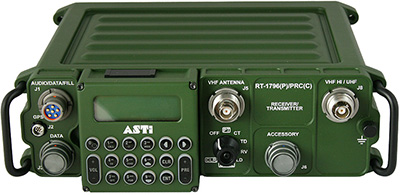 ASTi's radio simulator products are an ideal solution for military or civil training programs that provide hands-on experience with the operation of communications systems. ASTi radio simulators provide the realistic look, feel and functionality of a live radio, but at a fraction of the cost.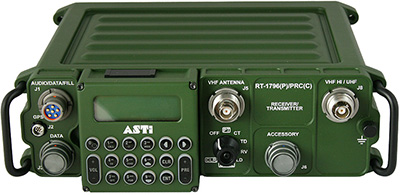 The radio simulator operates over IP networks, and is interoperable with a wide variety of simulators installed in major Army training programs including: AVCATT, CCTT, BCTC and VBS™. The training scenario easily expands to include additional simulated panels, live radios, as well as additional operators, instructors, or role-players.
Key benefits include:
The sophisticated ASTi radio model is embedded inside, and delivers highly-realistic operation to the user.
ASTi radio simulators operate over IP data networks, and do not emit radio frequency (RF) transmissions. This eliminates problems associated with live radio use, such as complicated spectrum management issues and potential health risks related to RF exposure.
ASTi radio simulators are available in hardware versions for maximum physical realism and software GUI versions for maximum economy.
ASTi's software allows construction of radio presets using standard parameters (i.e., frequency, modulation, frequency hop modes, and crypto fills) for quick and efficient distribution to all radio simulators.
Expand your training scenario with a wide range of radio simulator solutions from classroom applications to distributed LAN/WAN based training environments and high-end air, sea, and land platform training systems.
Create and store multiple sets of preferred exercise configurations for convenient set up and rapid deployment.
Features:
Custom configurable solutions for a variety of training scenarios.
Conserves live radio usage and reduces the costs incurred due to maintaining live radios.
Centralized, network-based configuration and management of radio simulators.
Compatible with a variety of audio interfaces including standard military handsets.
ASTi's radio simulator products work with the Voisus and Telestra product lines.
---
High-Fidelity Panels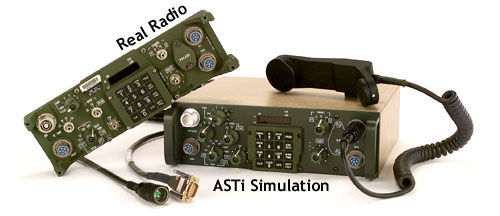 The real-world look and feel of our high-fidelity simulated panels, along with their embedded functionality, combine to provide your simulation with the highest reality user control available.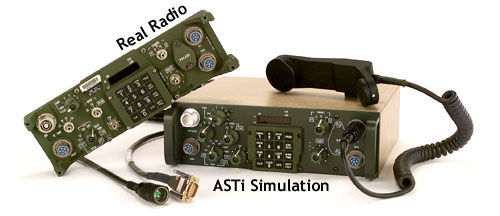 Not only do ASTi's custom panels look like the actual equipment, they operate just as fielded equipment, too. When you change a setting, or flip a switch, the associated panel's "switchology" is relayed in the software, and the necessary effects (such as "Radio On," "Volume Change," or "Press-to-Talk Activated") are performed immediately and efficiently to keep network bandwidth at a minimum.
ASTi's high-fidelity simulated panels work with the Voisus and Telestra product lines.
---
Software Skins
Voisus Client is available as a voice communications app for Android and Windows tablets, a wireless solution providing the power of Voisus in an app. The app offers up to 8 nets for simulated radio communications. Use the app to call other tablets over the network with a few taps of your finger. ASTi offers custom GUI options including tactical radio GUIs such as:
PRC-117F (PRC-150)
PRC-117G
SINCGARS ASIP (PRC-119)
PRC-148
PRC-152
Voice communications at a desk or on the go has never been simpler with Voisus apps for the Android™ tablet or smartphone. Traditional calling options such as point-to-point, one-to-many, and conference calling only scratch the surface of the available options. Connect to in-range, live, operational radios or virtual radios in the training environment from full-flight simulators to serious game-based trainers.
Voisus apps have simple and intuitive control and setup so that you can become a pro in minutes and without training. Custom skins such as radio panels and ship intercoms are also available to enhance individual training or operational requirements. With secure wireless options including WPA2 and FIPS 140-2 compliant AES encryption you get the peace of mind you need with the flexibility you require.
More information and examples are available on the Voisus Clients page.
---
For more information about ASTi's custom panels, contact us with your specific requirements.