Advanced Simulation Technology inc. (ASTi) ended the year by providing another Simulated Environment for Realistic ATC (SERA) system to Simloc Flight Simulation in Spain. Simloc purchased a total of four systems from ASTi in 2020. Despite the aviation industry's recent challenges, Simloc and ASTi have partnered to become a leading provider of flight training devices (FTDs) equipped with Simulated ATC Environment (SATCE) systems. ASTi and Simloc are committed to develop even better FTDs for new pilot training. Thanks to this partnership, the SERA system will be available on the entire range of Simloc products, from ab-initio to jet training.
The ability to provide a SATCE system on an FTD is now more significant than ever. In December 2020, the European Union Aviation Safety Agency (EASA) released the "Notice of Proposed Amendment for Certification Specifications for Aeroplane Flight Simulation Training Devices, Issue 3." Now under review, this amendment specifies SATCE systems within a FTD regulatory framework and identifies training tasks that would benefit from SATCE systems.
SERA provides realistic air traffic control (ATC) and other radio communications, teaching students to interact with ATC and handle busy airspaces. Instructors can select and run training scenarios through intuitive web pages. As a result, they no longer need to role-play ATC and can focus on training during each session. This solution enhances any FTD, reducing the instructor's workload and bringing a level of immersion previously unavailable.
SERA fully complies with the latest industry requirements for SATCE solutions. These requirements include the "Manual of Criteria for the Qualification of Flight Simulation Training Devices" (ICAO Doc. 9625, Ed. 4) and the updated ARINC Specification 439B "Simulated Air Traffic Control Environments in Flight Simulation Training Devices."
Yet again, this delivery to Simloc confirms SERA as a leading SATCE solution in the marketplace for flight simulation training devices. ASTi looks forward to working with Simloc in 2021, bringing this innovative training technology to the real world.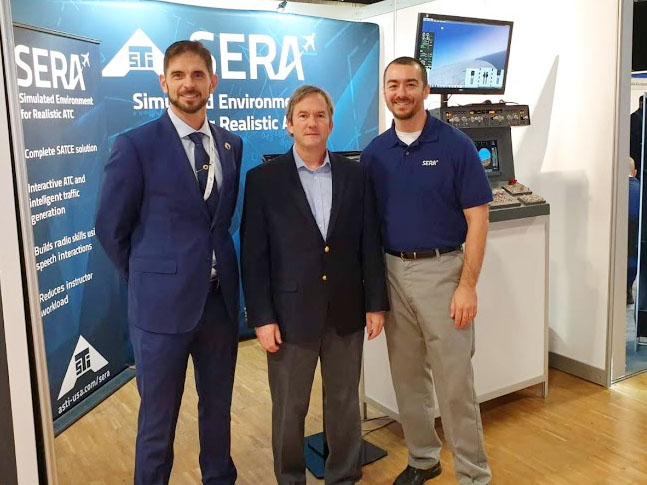 About ASTi
ASTi is the leading supplier of communications, automated ATC, and sound systems to the training and simulation industry. ASTi meets FAA, EASA, and equivalent Level D qualifications with simulators around the world. Since 1989, ASTi has fielded over 10,500 systems at more than 800 installation sites in the US and 49 other countries. To learn more about ASTi, please visit asti-usa.com.
About Simloc
Simloc Research is a Spanish company dedicated to the manufacture of certifiable, fixed-base simulator FTDs. Its success lies in its ability to develop hardware and software, which allows it to offer comprehensive solutions for civil and defense simulation to the national and international market that are unique for their value for money. To learn more about Simloc, go to simloc.aero/en.