The 412th Electronic Warfare Group at Edwards AFB awarded Advanced Simulation Technology inc. (ASTi) a contract for communications simulation products and technical services. The contract supports an inaugural, developmental test center for the DoD's Joint Simulation Environment (JSE) program. This award marks the latest in a series of recent contracts that the JSE program office awarded ASTi. JSE is a state-of-the-art modeling and simulation environment that the DoD is developing to test fifth-generation aircraft systems, such as the F-35 Lightning II and F-22 Raptor.
ASTi products provide the capability for JSE test and development engineers to build high-fidelity, physics-based simulations of voice communications, navigation aids and electronic warfare systems. ASTi-enabled simulators supplement open-air testing of live aircraft by accurately replicating test factors (e.g., terrain, weather, adversary air/ground threats) in a controlled, indoor facility.
ASTi also simulates Link 16 and Multifunction Advanced Data Link (MADL), a next-generation Low Probability of Detection/Low Probability of Interception (LPD/LPI) secure communications link among stealth aircraft. MADL helps connect F-35 pilots to other aircraft, sharing situational awareness data without revealing their locations to enemy forces.
Under previous contract awards, the Air Force acquired ASTi simulated communications systems for the JSE sister facility at Nellis AFB. While Edwards AFB will focus on developmental testing, the Nellis facility focuses on operational testing. However, both facilities will receive similar ASTi system configurations so they can dovetail their capabilities.
Additionally, the Naval Air Warfare Center Aircraft Division (NAWCAD) facility at Patuxent River, MD purchased an extensive ASTi simulation suite supporting developmental/operational avionics testing for F-35 fighter platforms. NAWCAD is currently using the ASTi-equipped simulators to train pilots and test F-35 weapons systems in denied airspace and dense-threat environments. The JSE facility at Patuxent River accommodates 14 F-35 simulators and multiple instructor operator stations. The Air Force used this location as a template for JSE facilities currently opening at Edwards AFB and Nellis AFB.
Find out more about ASTi solutions for the JSE program.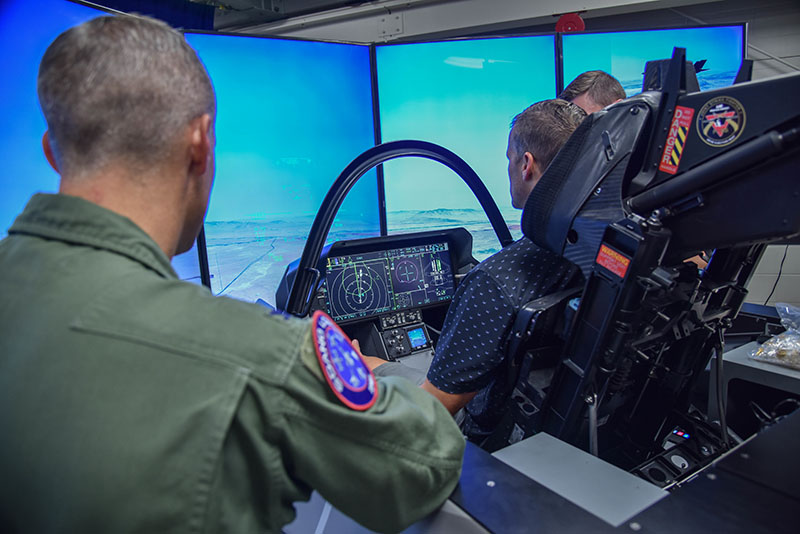 About ASTi
Since 1989, ASTi has been at the vanguard of innovation for live and simulated training solutions for the military. ASTi has fielded over 10,000 systems at more than 800 installation sites in 50 countries. ASTi's capabilities include Radio-over-IP (RoIP) bridging; tactical system emulation; distributed, simulated voice communications; AI and speech-enabled, virtual role-players and simulated battlefield and cockpit sound environments. To learn more about ASTi, please visit www.asti-usa.com.