Advanced Simulation Technology inc. (ASTi), a leading provider of modular, product-based solutions to the simulation market, last week demonstrated a revolutionary low-cost commercial flight training system at the European Airline Training Symposium (EATS) in Berlin. The system, which consists of ASTi's new Simulated Environment for Realistic ATC (SERA) and the Airliner1 Flight Management Computer (FMC) trainer, is poised to address important commercial aviation industry challenges such as the lack of realistic air traffic control (ATC) communications training and overcrowded training centers by introducing a low-cost option that offloads demand from Level D simulators.
At EATS, representatives from the airline industry, flight training centers and flight simulator manufacturers had a chance to test the system. Demonstrations included ASTi's SERA in Airliner1's FMC trainer as well as SERA in Airliner1's fully simulated Boeing 737NG cockpit with a Cobra Simulation mini-dome display. The new FMC trainer addresses two critical training needs. The first is a realistic ATC environment, which provided by SERA, exposes a trainee to the pressures and workload of an aircraft flight deck environment. This includes experiencing and interacting with ATC controllers and other aircraft radio traffic while following a realistic flight plan entered into the Control Display Unit (CDU). To date, ATC training has been limited and unrealistic, largely relying on role-playing by an instructor. Second, type-conversion training on a specific FMC/CDU typically takes place in an FFS Level D cockpit, which is the only place a fully functional hardware CDU is available, and where a few hours may cost many thousands of dollars. The FMC trainer provides a fully implemented hardware CDU simulation including maintenance menus, and enables crews and maintenance personnel full exposure to a type-specific CDU in an affordable part-task trainer package. Currently available for 737NG aircraft, future FMC trainer versions will include Airbus A320 and Boeing 747, with others to follow based on demand.
"Flight training centers are often overcrowded and simulated practice flights are at the mercy of when the center's next Level D flight simulator becomes available," says ASTi Training Specialist Scott Moore. "With the combined solution of Airliner1's FMC trainer and ASTi's SERA, flight training centers will be able to provide trainees with a method of flying a simulated route and practicing realistic ATC communications on a platform that costs less than 1 percent of a Level D flight simulation training device."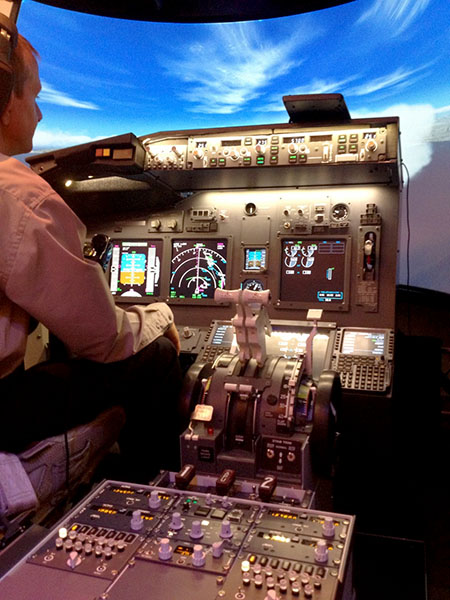 About ASTi
Since 1989, ASTi has been at the forefront of simulation innovation, delivering products that provide highly immersive synthetic sound effects, virtual radio communications, live radio-over-IP bridging, networked voice integration and interactive voice-enabled training solutions to enhance training and experimentation effectiveness across live, virtual, constructive and gaming domains. To learn more about ASTi, please visit www.asti-usa.com.