Coming Attractions
Here's a list of what you can expect to see at ASTi's booth (#1149) at this year's I/ITSEC tradeshow.

JTAC-style training demo featuring interactive, synthetic training elements, 3-dimensional sound and state-of-the-art voice recognition allowing synthetic entities to respond directly to 9 line calls for fire.



Voisus radio communications inside the VBS™ and CryENGINE serious gaming platforms.



Construct—ASTi's constructive audio and radio comms product—integrated with a low-overhead training system.



Vehicle/convoy training system (e.g., Common Driver Trainer) with tactical radio simulators and tablet-based comms and radio interfaces.



Simulated tactical comms with MIL radio simulators for SINCGARS, PRC-117 and TOCNET which replicate operational interfaces.


And don't forget to ask about:

Simscribe - ASTi's capture and replay tool for live, virtual, and constructive (LVC), after action review (AAR), and game-based training applications.


Radio Bridge - Stream live radio traffic to and from your network, and control real radios from your web browser.



Telestra - ASTi's powerful modeling and simulation suite for constructing industrial-strength solutions.


ASTi Highlights Serious Games at I/ITSEC 2012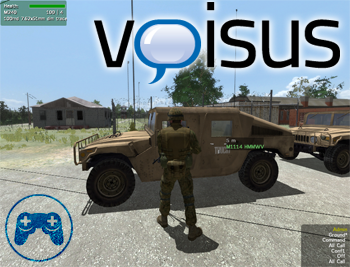 ASTi's Voisus audio and communications product is built with serious games in mind, and this year's I/ITSEC is the perfect place to see it in action. We have a number of serious-game-related things on tap:
We will be demonstrating Voisus integration with VBS™ and CryEngine at our booth (#1149). The mock mission will feature a fully networked comms environment for all our demo stations, including convoy and TOCNET simulations, as well as a JTAC-style call for fire training scenario.

ASTi is the Silver sponsor for this year's Serious Games Showcase & Challenge as well as the Peoples' Choice Award sponsor.

ASTi's own Ross Kukulinski boasts a notable pedigree when it comes to serious games in the Training & Simulation industry. He has spoken on serious games and emerging technology at industry and technical conferences such as the Defense Gametech Users Conference, Serious Play Conference, and NTSA M&S Multi-Con. This year at I/ITSEC, Ross will be presenting a tutorial titled "Serious Communication for Serious Games" on Monday, December 3, 2012 from 12:45pm to 2:15pm. It's free and open to all I/ITSEC attendees. Download info about all I/ITSEC tutorials; Ross' is Track 8, tutorial #1259.
---
Voisus is a registered trademark of Advanced Simulation Technology inc. All other trademarks or copyrights are property of their respective owners.